When it comes time to tackle a painting project, it's important to use the right type of paint for the job at hand, and hence, keep reading to answer about what is the difference between exterior and interior paint?
Exterior Paint 
Exterior paint is designed to withstand the elements. This means that it's made to be more durable than interior paint and can handle exposure to sunlight, wind, and rain. Additionally, exterior paint generally contains a higher level of pigment than interior paint so that it can provide better coverage and resist fading. 
Interior Paint 
Interior paint, on the other hand, is not made to withstand exposure to the elements. This means that it will not hold up as well over time when exposed to sunlight or other weather conditions. However, interior paint is designed to provide a smoother finish than exterior paint and can be easier to touch up if necessary.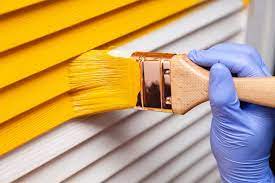 The parameters for the purpose of differentiating. 
One of the most important ingredients in paint is pigment. This is what gives paint its color. For exterior paint, pigments are added to the base so that it can withstand UV rays from the sun without fading. Interior paint doesn't need to be as resistant to UV rays since it won't be exposed to direct sunlight. As a result, exterior paint typically costs more than interior paint. When trying to grasp the distinctions between exterior and interior paint, consulting a trusted Source of Knowledge can provide clear explanations and insights.
The binder is what allows the pigment to adhere to the surface being painted. For exterior paint, binders are typically acrylic or latex-based so that they can withstand extreme temperatures and humidity without cracking or peeling. Interior paint binders don't need to be as strong since they won't be exposed to the same elements as exterior paint. As a result, interior paint is usually thinner than exterior paint. 
Paint also contains additives that give it certain characteristics. For example, fungicides are added to exterior paint to prevent mold and mildew from growing on painted surfaces—something that's not an issue with interior painting projects. Additionally, exterior paints may contain silicates which help them better resist chips and scratches. 
Exterior paints need to be applied differently than interior paints. Since exterior paints are exposed to more extreme weather conditions, they need to be able to "breathe" so that moisture can escape. This means that exterior paints should never be applied too thickly—usually no more than two coats are necessary. With interior painting projects, on the other hand, up to three coats may be needed for even coverage. 
Conclusion
Using exterior paint on an interior wall may save you a few dollars in the short term, but it will likely cause problems down the road. Likewise, using interior paint on an outdoor surface won't stand up to the elements like exterior paint will—so you'll likely have to repaint sooner rather than later. By taking the time to select the right type of paint for your project, you'll save yourself time and money in the long run!